Jo Parsons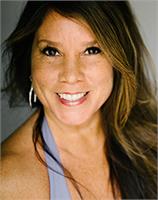 Practicing Bikram since 2002, Jo began to practice power yoga in 2004. After her first Baptiste Power Vinyasa class, she knew she had found something life changing. That began her journey of finding and standing in her own power, and ultimately to teaching others that they can do the same! Yoga ERYT 200 Hour Yoga Alliance Certified, she's been teaching since 2006. Her understanding of Hot Hatha Yoga, Yin Yoga, and Baptiste Power Vinyasa Yoga in both on how to teach them and how to make adjustments has depth that only the precious currency of time can buy. Jo's ability to connect with her students and understand their suffering, and their triumphs (emotional, physical, and spiritual) is as unique as she is. Jo always stands in her truth and encourages those who take her classes to do the same. She is a bright, shining light, and has been described as authentic, wise, funny, encouraging, and most of all loving. Having completed teacher trainings with Baron Baptiste, and an extensive hands-on assisting program with Lisa Black (TAP), Jo is also inspired by Gregor Singleton, Patrick Grey, Bernie Clark, Shiva Rea, and Bryan Kest. She brings a richness and loving nurturing presence to any yoga environment and is excited to share her love of yoga with all of you!
Jo Parsons instructs the following:
These strong, steady-paced classes flow through the complete, traditional Baptiste Power Vinyasa Yoga sequence. The instructors offer modifications and variations throughout the class so that students of all levels can experience a deep and meaningful practice.




Yin Yoga is a practice designed help you find stillness in both the body and mind, as it increases flexibility and restores balance. This class will have you on the floor most of the time. It is a deep practice where postures are held for 2-6 minutes. Yin Yoga works the deep connective tissues of the body - the tendons, ligaments, cartilage, and fascia. This practice is especially restorative for the joints and muscles and will open and release areas in need of more flexibility. Yin Yoga is the perfect complement to your Vinyasa practice.

Due to the quiet nature of this class, late arrivals will not be granted studio access. Early arrival is strongly encouraged. Please allow extra time for parking and registration to ensure you arrive on time. Thank you.




A Level 2-3 Power Vinyasa class with high energy, upbeat pacing, handstands, arm balances, and hip opening. Leaves you energized!




A slower paced, modified Baptiste Power Vinyasa Yoga sequence. The instructors offer the modified variations for all of the postures throughout the practice, and students are invited to work at their own levels. This class is the perfect next step for people who have completed the Intro series or for practitioners new to Baptiste Power Vinyasa Yoga. Each class may include a short "posture clinic" with detailed information about a focus asana.




Focusing on the basics of breath and postural alignment, this class will lead students through sequences that help develop flexibility, core stability, and strength, while maintaining a playful mindset.




$40 Pre-register / $45 day of

Yoga helps us deepen our awareness of ourselves. Through asana, we discover that we are capable of more than we think.


Join us to celebrate a New Year full of new possibility! Get connected, refocused, and inspired as you align your body and mind through meditation and asana. Cultivate curiosity, grit, and motivation to break through mental barriers, clarify your goals and begin charting your course for the New Year. This is the perfect time to identify your goals and commit to personal growth that will carry you through the New Year and beyond!


All Levels Welcome. Preregistration is strongly suggested.