Josh Pennock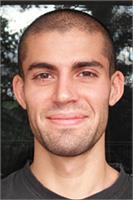 "For me, yoga is physicality as a means to spirituality."
After first deciding to try yoga in 2008 as a way to cross train for Brazilian Jiu-Jitsu, Josh found out after just one class that yoga was much more than exercise or stretching. He immediately started practicing regularly and has never looked back...
Josh strives to bring challenge and discipline to students in a fun and light-hearted way, always searching for the perfect balance of work and play.
Josh has completed Baron Baptiste's Level 1 Teacher Training in 2012 and has also completed SHAKTI's Teacher Mentorship Program, working closely with Lisa Black and Gina Skene and many other amazing SHAKTI teachers.
Josh Pennock instructs the following:
Level 2: Basic Level where modifications for the postures offered. These classes flow through the complete, traditional Baptiste Power Vinyasa Yoga sequence of 53 postures and 11 series. Geared towards students who have some experience in Power Vinyasa yoga and is rewarding for experienced students as well.




A slower paced, modified Baptiste Power Vinyasa Yoga sequence. The instructors offer the modified variations for all of the postures throughout the practice, and students are invited to work at their own levels. This class is the perfect next step for people who have completed the Intro series or for practitioners new to Baptiste Power Vinyasa Yoga. Each class may include a short "posture clinic" with detailed information about a focus asana.