Zak Endicott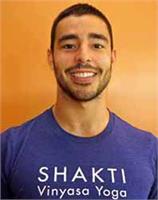 Zak is a dynamic, motivating human being who stands for freedom, and unconditional love. He was born to spread light and to help others turn on their own inner light. Discovering the yoga path has opened his mind and heart up to growth, healing and transformation, and his life has become an exciting and fulfilling adventure ever since. He believes that the modern day yoga movement is in truth a peace movement and it is the call of the people saying that we want to live, love and believe freely and in honesty, while taking care of each other and the planet we live in. Together we make a difference. Every yoga class you attend is an affirmation that the world is a better place.
Zak completed level 1 and level 2 trainings with Baron Baptiste, has studied hands on assisting extensively, and is in ongoing mentorship with Senior Baptiste Yoga Instructor Lisa Black. He is currently studying ashtanga yoga under the guidance of Troy Lucero and is also studying Forrest yoga and is enrolled for Advanced Teacher Training with Ana Forrest in September of 2014. Other master teachers he is studying with this year include: Edward Clark, Jason Crandell, Kathryn Budig, Kino MacGregor. Zak is E-RYT 200 hours with yoga alliance and soon to be Baptiste Certified.
Zak currently leads Shakti's Introductory Series, and Teacher Mentorship Program on Tuesdays 7:15 PM at Shakti Bellevue, and on Thursdays at 7:15 PM at Shakti Seattle. Leading beginners to discover this practice while helping new teachers discover their voice and uncover their power is a passion for him. Intro series is his favorite way to bring yoga to the people.
"Truth and love can and will set you free if you just ask. Come check it out, we're having fun!"
Blog, and other info at http://www.yogawithzak.com
Zak Endicott instructs the following:
A Level 2-3 Power Vinyasa class with high energy, upbeat pacing, handstands, arm balances, and hip opening. Leaves you energized!




Focusing on the basics of breath and postural alignment, this class will lead students through sequences that help develop flexibility, core stability, and strength, while maintaining a playful mindset.




Level 2: Basic Level where modifications for the postures offered. These classes flow through the complete, traditional Baptiste Power Vinyasa Yoga sequence of 53 postures and 11 series. Geared towards students who have some experience in Power Vinyasa yoga and is rewarding for experienced students as well.




These strong, steady-paced classes flow through the complete, traditional Baptiste Power Vinyasa Yoga sequence. The instructors offer modifications and variations throughout the class so that students of all levels can experience a deep and meaningful practice.