Eva Lasprogata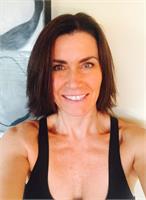 Eva began her yoga practice in 2005 after many years of dance training, weight lifting and gym group exercise. She has been a professor of law, human rights and corporate citizenship for over a decade at Seattle University where she is tenured in the business school. For Eva, her left brain stress from business legal analysis, teaching and writing never found complete release at the gym. Yoga, however, was like magic, offering Eva a form of right brain bliss and inspired creativity. The practice of asana and meditation quickly became a part of her spiritual growth which draws further insight from Don Miguel Ruiz, John O'Donohue and First Nations' traditions and worldview. Wanting to share her passion for yoga, Eva entered yoga teacher training in 2008 and is today an Associate Baptiste Instructor. She continues to study and learn from the many gifted teachers in the Seattle area, and enjoys taking classes and workshops from Lisa Black, Michel Spruance, Liz Doyle and Troy Lucero, to name a few. Teaching for Eva is pure joy! Her classes integrate the physical challenge of the Baptiste power vinyasa flow with her shared life experience, humor and compassion to inspire her students to be their most empowered selves both on and off the mat. One of Eva's spiritual teachers, Angaangaq of Greenland, says that "the greatest distance in all of humanity is the distance between man's mind and his heart. It is only when we bridge that distance that we can soar like the eagle." Eva believes yoga is that bridge, creating union between the heart and the mind so that we can come into our own power and live authentically with meaning and purpose, connected to both our humanity and our divinity, and most importantly to each other.
Eva Lasprogata instructs the following:
Level 2: Basic Level where modifications for the postures offered. These classes flow through the complete, traditional Baptiste Power Vinyasa Yoga sequence of 53 postures and 11 series. Geared towards students who have some experience in Power Vinyasa yoga and is rewarding for experienced students as well.