Evi Watson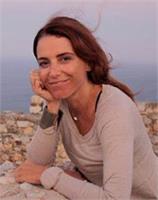 Evi Watson was born and raised in Athens, Greece. She has been practicing yoga since 2000. Evi began her yoga journey with Ashtanga yoga as a way to improve her core strength and flexibility for rock climbing. She moved to Seattle in 2004 and fell in love with Power Vinyasa. She is truly inspired by what yoga has done for her both physically and mentally, allowing her to see life with an open mind, combined with strength and confidence.
Evi received her RYT-200 Yoga Alliance certification in 2009 and has been teaching ever since. She has completed level 1 & level 2 teacher trainings with Baron Baptiste. She is also a graduate of Shakti's Teacher Assisting Program (TAP), Advanced Teacher Assisting Program and Teacher Mentorship Program (TMP). She has attended teacher-training workshops with Shiva Rea and Anna Forrest and continues her path as a student first, while sharing her passion for yoga with her students. She is excited to be part of the Shakti community as it offers a loving and supportive environment, while providing essential tools for continuous growth as a student and teacher.
Evi's teaching philosophy is to practice yoga with an open mind and a light spirit with no limitations or judgments. Her classes are challenging yet accessible to everyone with an emphasis on alignment and breath in a fun and relaxing environment.
Evi Watson instructs the following:
These strong, steady-paced classes flow through the complete, traditional Baptiste Power Vinyasa Yoga sequence. The instructors offer modifications and variations throughout the class so that students of all levels can experience a deep and meaningful practice.




Level 2: Basic Level where modifications for the postures offered. These classes flow through the complete, traditional Baptiste Power Vinyasa Yoga sequence of 53 postures and 11 series. Geared towards students who have some experience in Power Vinyasa yoga and is rewarding for experienced students as well.




A slower paced, modified Baptiste Power Vinyasa Yoga sequence. The instructors offer the modified variations for all of the postures throughout the practice, and students are invited to work at their own levels. This class is the perfect next step for people who have completed the Intro series or for practitioners new to Baptiste Power Vinyasa Yoga. Each class may include a short "posture clinic" with detailed information about a focus asana.