Lara Ederer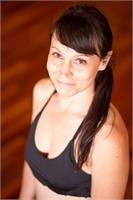 RYT 200

Lara was introduced to yoga in 2002 by a newly certified friend who needed practice students. Over the next several years she ventured in and out of the practice as well as different styles until she found her "home" in Vinyasa and Ashtanga traditions. In 2012 she completed her 200 Hour with Be Luminous with a primary focus in Power Vinyasa. Her teaching style is playful and sprinkled with humor yet it is evident that she is influenced by deep rooted traditions such as chanting, Pranayama, and Sanskrit.

Lara is also a co-founder of Yogalab Northwest, a grass roots collaboration that hosts world class teachers in the Seattle area as a way to celebrate the strong local yoga community. She has had the privilege of hosting and learning from Sri Dharma Mittra, AmyIppoliti, Tiffany Cruickshank, Kino Macgregor, Jason Crandell, and has several more scheduled events on the horizon.
Lara Ederer is currently not instructing any classes.