Lara Ederer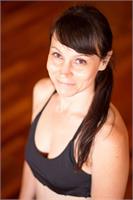 RYT 200

Lara was introduced to yoga in 2002 by a newly certified friend who needed practice students. Over the next several years she ventured in and out of the practice as well as different styles until she found her "home" in Vinyasa and Ashtanga traditions. In 2012 she completed her 200 Hour with Be Luminous with a primary focus in Power Vinyasa. Her teaching style is playful and sprinkled with humor yet it is evident that she is influenced by deep rooted traditions such as chanting, Pranayama, and Sanskrit.

Lara is also a co-founder of Yogalab Northwest, a grass roots collaboration that hosts world class teachers in the Seattle area as a way to celebrate the strong local yoga community. She has had the privilege of hosting and learning from Sri Dharma Mittra, AmyIppoliti, Tiffany Cruickshank, Kino Macgregor, Jason Crandell, and has several more scheduled events on the horizon.
Lara Ederer instructs the following:
A Level 2-3 Power Vinyasa class with high energy, upbeat pacing, handstands, arm balances, and hip opening. Leaves you energized!




Created in 2003 by Lisa Black as her unique signature style, SHAKTI is a dynamic, fluid, creative vinyasa yoga sequence that will challenge your mind and body and leave you feeling free and uplifted. Classes are based around the central theme of "wave-like fluidity" and multi-directional sequencing. We will move on our mats facing the front, the back, and both sides of the room using this circular based sun salutation, or "mandala namaskara" influenced by Shiva Rea, as the main structure. Within this dynamic flow, we explore creative variations of powerful standing postures, arm balances, twists, back bends, and hip openers. You will "surf your edge" as we support each other in learning playful inversions that leave you empowered! Be prepared to sweat, have fun, and explore your yoga practice in a new way. This class is appropriate for anyone with at least six months or more of steady vinyasa yoga practice and an open, willing mind. The yoga studio is heated to a comfortable, warm 90-92 degrees with humidity.