Heather Helfrich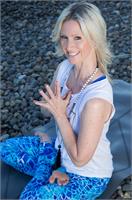 RYT 500

After many years of practicing Bikram, Power and Hatha Yoga, Heather had a calling to deepen her practice and the yearning to learn more about yoga. Heather completed her first 200HR training with Jared McCann at Lighthouse Yoga School in Brooklyn, NY. Diving into teaching once she returned home to WA, she still wanted to learn more. Her additional trainings include Yin Yoga 50HR training with Pamela Chang, 25 HR Kids Yoga Certification and intensive trainings from world renowned senior teachers Kino MacGregor (Ashtanga), Sri Dharma Mittra, Ana Forrest, Edward Clark (Tripsichore Advanced Vinyasa), Day Christensen (Ashtanga) and continuing workshops with Jared McCann.
Heather's home practice includes Ashtanga, Yin Yoga and Meditation. Heather loves to share the healing and transformative power of yoga with all of her students through challenging and creative sequencing of postures, safe and proper alignment, pranayama breathing and meditation.
Heather Helfrich instructs the following:
Focusing on the basics of breath and postural alignment, this class will lead students through sequences that help develop flexibility, core stability, and strength, while maintaining a playful mindset.




Yin Yoga is a practice designed help you find stillness in both the body and mind, as it increases flexibility and restores balance. This class will have you on the floor most of the time. It is a deep practice where postures are held for 2-6 minutes. Yin Yoga works the deep connective tissues of the body - the tendons, ligaments, cartilage, and fascia. This practice is especially restorative for the joints and muscles and will open and release areas in need of more flexibility. Yin Yoga is the perfect complement to your Vinyasa practice.

Due to the quiet nature of this class, late arrivals will not be granted studio access. Early arrival is strongly encouraged. Please allow extra time for parking and registration to ensure you arrive on time. Thank you.