Richard Grace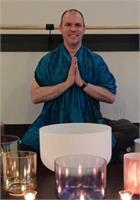 RYT 200
Richard Grace has been teaching yoga since 2012. He is a classical pianist and organist, and began his practice of meditation while studying music in graduate school. Eventually he found yoga, and since becoming a teacher of yoga, has worked to incorporate his love of meditation, music, chanting, and sound healing into his classes. He gives a variety of workshops that incorporate Alchemical Crystal Singing Bowls. Richard is passionate about helping other teachers, and works with local yoga teacher training programs in the areas of meditation, chanting, chakras, music sequencing, and energetic body attunement through sound.
Richard also operates a full-time piano teaching studio in Bellevue, and is a long time church musician. Before moving to the Northwest, he was on the piano faculties at the University of Oklahoma and the State University of New York in Potsdam, where he worked with music education majors and taught piano pedagogy.
Richard Grace instructs the following:
Yin Yoga is a practice designed help you find stillness in both the body and mind, as it increases flexibility and restores balance. This class will have you on the floor most of the time. It is a deep practice where postures are held for 2-6 minutes. Yin Yoga works the deep connective tissues of the body - the tendons, ligaments, cartilage, and fascia. This practice is especially restorative for the joints and muscles and will open and release areas in need of more flexibility. Yin Yoga is the perfect complement to your Vinyasa practice.

Due to the quiet nature of this class, late arrivals will not be granted studio access. Early arrival is strongly encouraged. Please allow extra time for parking and registration to ensure you arrive on time. Thank you.