Ashish Arora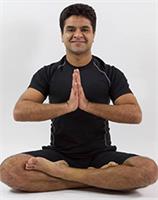 RYT 200
Ashish grew up in Delhi, India where he briefly practiced yoga in Elementary school and learned Sanskrit in Middle and High school. He did not practice yoga again till he went to a yoga class in January 2015 in his office gym at Nintendo. That's when he realized the possibilities yoga opened up for him, both physically and mentally. The same year he completed his 200-hour Teacher Training at Shakti Vinyasa Yoga, following it up with a 4 month mentoring program. He has also completed Level 1 training with Baron Baptiste and weekend intensives with Anna Forrest (Forrest Yoga) and Kino Macgregor (Ashtanga). After spending 16 years of working as an engineer in the Computer and video game industry, he is currently taking a sabbatical and spending his time practicing/teaching yoga and to travel. He loves to practice different styles of yoga, taking about 12 classes/week across Seattle. In the last year, he has practiced yoga in a few places across the world - Delhi, Bali, Rome, Edinburgh, New York, LA, Boston, Miami, DC and more.
He likes to practice with a smile and tries to bring his fun personality to his teaching. At the same time, you should come in expecting to push your edge. He would like you to be open to the possibilities which open up on and off your mat when you push that edge. A strong example from his personal life being how yoga helped him get over his fear of water by getting him in control of his breath, which then let him explore scuba diving.
He strongly believes that happiness cannot be achieved by just tying it to big goals, but it comes from finding something in the current moment to be happy about and to smile about it. Those moments then go on to make your entire life.
Ashish Arora instructs the following:
A slower paced, modified Baptiste Power Vinyasa Yoga sequence. The instructors offer the modified variations for all of the postures throughout the practice, and students are invited to work at their own levels. This class is the perfect next step for people who have completed the Intro series or for practitioners new to Baptiste Power Vinyasa Yoga. Each class may include a short "posture clinic" with detailed information about a focus asana.




Level 2: Basic Level where modifications for the postures offered. These classes flow through the complete, traditional Baptiste Power Vinyasa Yoga sequence of 53 postures and 11 series. Geared towards students who have some experience in Power Vinyasa yoga and is rewarding for experienced students as well.